Tonewood for acoustic guitars
Catalog-Download (PDF)
Catalog acoustic guitars

To download please press with the right mouse button on the link and choose "Save target as ..." from the drop-down menu.
---
Pricelist-Download (PDF)
Pricelist acoustic guitars

To download please press with the right mouse button on the link and choose "Save target as ..." from the drop-down menu.
---
1. Concert- & western guitars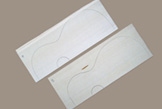 For the concert and western guitars we offer the cut tops in spruce and cedar. For spruce we select eight different qualities, from GDF/WDF #4 (faulty/small) to GDF/WDF "Master". Cedar is offered in four different qualities, from simple (III) over medium (II) and good (I) up to best (Ia). A special offer for cedar tops: If you order a larger quantity, we offer an average sorting between simple or good quality.
For backs and sides our assortment reaches from maple to zebrawood, from domestic to exotic. Curly maple is either smooth/light, medium, good or best flamed. We offer cut and dried East Indian rosewood in simple, medium and good quality. On top of that we offer undried import sorting (for quantities over 100 pieces).
Furthermore, we offer backs and sides made of mahogany/sapele, walnut, ovangkol, padouk, cherry and zebrawood. If you choose on of these kinds of woods, it is possible that we cannot deliver it immediately. Please pay attention to our notes on page 9 of the product catalog (please click here).
Of course, all backs and sides can be ordered advantageously as a coordinated set. In addition, we keep glued and ground tonewood for backs, sides and tops in stock.
---
2. Jazz guitars
We produce the tops for jazz guitars out of cut (wedge) or pressed (solid or laminated) spruce. The quality reaches from simple, over better, medium and good up to very well. On top of that we can offer for solid or laminated spruce parts in the best quality.
We can deliver solid or laminated tops in different shapes: R (= round model), DSM (= special model double cutaway) and SML (= left-hand with one cutaway). Please notice that we do not have the R-, DSM- or SML-versions always in stock!
For the backs the offer of woods, qualities and special shapes is particularly varied. Our assortment includes solid or laminated maple from simple/medium/good/very well to sbest flamed. Laminated backs made of zebrawood, East Indian rosewood or birds eye maple complete our wood selection.
In our catalog you can find their exact dimensions, as well as the dimensions for the backs of the semi acoustic guitars.
The sides are in the usual maple variations available, from smooth and simple over medium, good, very well up to best flamed.
---
3. Mandolin, Mandola, Bouzouki & Banjo
We deliver small guitar spruce tops for Mandolins, Mandolas, Bouzoukis and Ukeleles and in different quality levels (simple, medium, good and best).
The cut backs and sides, made from maple, for mandolins/mandolas are available in plain and flamed (simple/medium/good/very well flamed) executions. The laminated backs for banjos are available in maple (plain or flamed) and mahogany or rosewood on demand.
---
4. Dulcimer
We offer the tops for the dulcimer, made of spruce, in two qualities: the tops produced with the simple quality can be delivered as one piece or as two pieces. The tops with good quality are only available as two pieces. For the back, the sides and the fingerboard we can offer you cut, smooth maple. The back parts consist of one part.
---
5. Lute wood
The 12-pieces maple woods we need for the lutes are produced out of one piece, which can be ground down to 2.2 mm, afterwards.
---
6. Bridge cuts & head plates
We have stored always some cut bridge cuts for western- and concert guitars, as well as high-quality head plates. Both are made from African ebony and Indian rosewood. We also deliver several other wood types in different sizes and thickness. If you have questions, do not hesitate to ask us.
---
7. Truss rods
Single-sided tension rods made of aluminium. For western and jazz guitars following sizes are available: 430/460 x 8 x 8 mm.
---
8. Fingerboards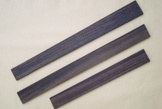 We produce dried and sorted fingerboards, made of East Indian rosewood and African ebony (respective quality class I, II and III), for western- and concert guitars.
We also offer import selection, which is available for larger quantities. These items are of raw selection A/B and undried wood species in rosewood and ebony (both in A, or A / B quality).
For a surcharge the drying can be done here.
Please notice the new CITES regulation for rosewood types, valid from the 2nd of January 2017!
Delivery delays can occur!
Alternative fingerboard woods:
- Maple
- Walnut
- Wenge
- Pear tree
---
9. Guitar necks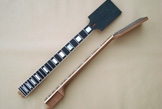 Here we offer a very wide selection. For concert guitars you can choose between alder, maple and mahogany, and two different kinds of blocking (1- or 3-fold).
For the Spanish guitar we offer maple or mahogany. For the necks of western guitars we use the same kinds of tonewood. Maple and mahogany both in simple and mahogany on top of that in triple blocking.
---
10. Kit for concert guitars
Another highlight of our assortment is the kit for a concert guitar.
You can choose between three different combinations of wood: maple/spruce, mahogany/cedar and rosewood/bearclaw spruce.
Because of the design of this kit, the customer is able to build his instrument without any expensive special tools. To simplify the installation we have added numerous pictures to the very detailed construction manual. Because of that even a layman has the opportunity to play an instrument, which he builds by himself. The individual components are made exclusively of solid wood.
The kit includes:
- Top (spruce) with a wooden mosaic sound hole inlay
- Back (maple) glued and ground to thickness
- Ribcage bent with milled neck joint
- Neck, drilled with tuners holes
- All bars for the interior
- Fibre stripes (black) for the edge of the top
- Fingerboard with fret
- Bridge
- End pin
- Nut
- Tuners
- 1 set of strings
- Construction plan (scale 1:1) for top, back and neck
- Construction manual
The handling is very easy, because of the detailed, easy-to-understand construction manual. The kit is packed in a neutral single box.